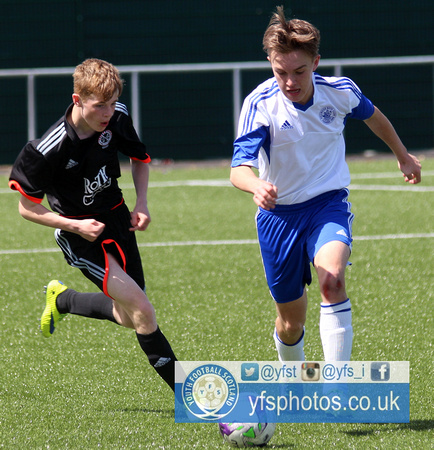 A wonderful, four-goal performance saw St Peter's BC U16s win the Paisley Johnstone and District YFL Cup over Hillwood BC. Thomas Cruden opened the scoring just before half time and a further three goals would come in the second half to give St Peter's a commanding win.
The opening exchanges were tight with real chances few and far between, St Peter's possibly looking the most likely to score. A good bit of play from Jay Little allowed Blair Grey to get in a cross for Cruden but his shot was eventually blocked and cleared.
A couple of crosses from Little almost set up the opening goal for St Peter's as his team were having a lot of joy from the wings. First, a cross met on the head by Steven Ferguson was well saved by Kyle Furphy. Another Little cross was again intended for the head of Ferguson but it was just over his head when any sort of contact would have most likely resulted in a goal.
A corner by Lewis McCracken almost resulted in an unlikely goal for Hillwood as Josh Smith's towering header went narrowly over the bar.
Little again was causing lots of trouble from the wing. His cross this time was cleared only as far as Jack McWilliam whose shot was deflected narrowly wide. Again St Peter's came forward this time through Louis Fisher. The battling midfielder fought to the by-line and his cross was flicked on at the front post by Cruden but his effort went barely over the bar.
A couple of chances from Hillwood showed St Peter's that they were still in this game. A long shot from Donaghy tested Ryan McLaren in goal but he was equal to it. Then a well-delivered corner by Ross Alexander was headed just wide by Chris Schneider.
With a minute left on the clock St Peter's finally found the breakthrough. Cruden was presented the ball at the edge of the box and after beating his man he made no mistake in firing a powerful shot past the helpless Furphy.
Donaghy came painfully close to instantly levelling the score. His curling effort from the edge of the box went no more than an inch past the post.