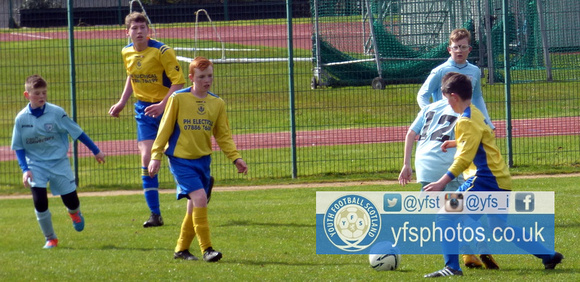 Tass Thistle Colts grabbed the spoils on a fine afternoon for football in Saltcoats, and advance to a CYP Scot-West semi final against either Kilwinning or local rivals Tass Thistle United.
The visitors were on a high from their recent trophy success in the Ian Mitchell tournament in Blackpool, and this game had all the makings of a classic cup encounter.
In fact this quarter final tie hinged on a bizarre few minutes in the second half, as the visitors spurned two successive penalties. Shortly later Tass forward Patrick Woods sealed Colts' place in the next round with a deft close range finish.
Both sides started brightly enough, with Lenzie almost breaking the deadlock on 9 minutes. Ross Tucker showed great pace to run onto a through ball and rounded Tass keeper Cameron McDermid, but his defence came to the rescue to clear the shot off the line.
On 13 minutes Tass started to get forward and exert some pressure, with Kieran Lamour flashing a shot just over. Just as the home side seemed to be getting on the front foot, though, Lenzie went up the pitch to take the lead on 24 minutes.
A high ball into the box was nodded on to Tucker. He controlled the ball to finish low past McDermid to give his side the early advantage.
But their lead was to last to last only 5 minutes as Tass fought back through an excellent individual effort from Keigan Lewis. After a good run down the left the midfielder powered a shot low past Brad McQuillen.
Tass continued to exert pressure as the half came to an end, with Bradley Morrison forcing a fine save from McQuillen.