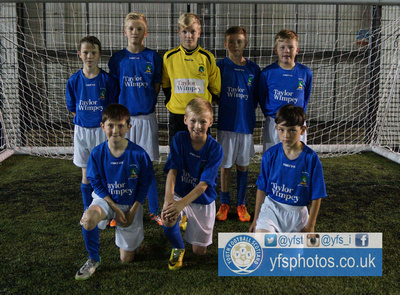 The Saltire Soccer Centre in Dalkeith was the venue for this years Mayfield & St Luke's Friendship Shield match. The end of season event which has been running now for nine years sadly saw two of the four teams participating withdrawing from the event.
This certainly did not dampen the spirits of both the Mayfield Primary and Burnbrae Primary players who took to the field to face each other hoping to be crowned Mayfield & St Luke's Friendship Shield winners 2015. The format of the match was 7-aside made up of two 25 minute halves with each team being made up of a mixture of pupils from p6 & P7.
The game itself was a real cracker with some fantastic football being played by both teams in a very competitive game. Great goals, wonderful saves, lots of goal mouth action and some wonderful skill meant you could not take your eyes of the game or you would definitely miss something.
Mayfield got the game underway and were two ahead in two minutes when Rian put them in front when his shot came of the left hand post and in, then a corner in from the right by Fraser crashed off the Burnbrae player, finding the back of the net for number two.
Both sides came close again with shots going wide from Mayfield's Jordan and Burnbrae's Mark after good set up play from Lewis F and Lewis M. Mark reduced the deficit on 10 minutes when he got a goal back for Burnbrae firing beyond Craig in the Mayfield goal.
Mayfield restored their two goal lead on 12 minutes when Rian got his second of the game when his shot took a deflection to wrong foot Reece in the Burnbrae goal. The game was end to end stuff with both teams playing good football and the deficit was reduced again on 15 minutes when Mark claimed his second of the game to make it 3-2.
It was goals galore with Mayfield opening up a two goal gap again a minute later when Corey-Lee played a great ball forward which was brilliantly controlled by Rian, who then lashed the ball home for his hat-trick. They further increased their lead just before half time when Rian collected his fourth and Mayfield's fifth of the game after latching onto the ball after Reece made a fine save from Christopher.
Into the second half and Burnbrae had a lot to do after going into the half three goals behind. They came close to getting one back on 29 minutes with Lewis F's shot just drifting wide of the left hand post. A minute later and Reece was picking the ball out of his net again after Jordan made it the half dozen for Mayfield, leaving the keeper with no chance with a fine finish.
Mayfield then went on a goal rush scoring a further four goals in a five minute spell. Rian incredibly claimed his fifth goal of the game with a great finish finding the top far corner and then with a quick brace in a minute he collected his sixth and seventh goal of the game.
Reece was fantastic in the Burnbrae goal making save after save to stop Mayfield being well into double figures with 10 minutes still to play. Football is a funny old game with a eight goal advantage and the game seemingly out of sight for Burnbrae, Mayfield were subjected to a late rally from their counterparts.
A great finish from Lewis F, lashing his shot into the top corner on 47 minutes got the ball rolling for Burnbrae. He then followed up with another fine strike a minute later to reduce the deficit to six and then completed what was an amazing three minute hat-trick a minute to further reduce the goal difference to five.
What a come back from Burnbrae and they were not finished off yet. Robbie with the last kick of the ball brought the score back to a respectable 10-6, which was certainly more reflective of how the game had went. A fun penalty shoot out followed with both sides scoring some crackers, alongside some wonderful saves from their keepers to make sure it finished all level on the spot kick front.
Mayfield Primary School squad: Craig, Fraser, Corey-Lee, Rian, Blake, Lewis, Christopher, Josh (c), Jordan and Rohan.
Burnbrae Primary School squad: Reece (c), Lewis M, Mark, Brendan, Robbie, Lewis F, Daniel and Ben.
After all the excitement and exertions of what was an enthralling game, both teams retired to an adjoining room for the presentation, a bite to eat and something drink. Mr Jamie Dougal from Burnbrae Primary thanked Mr Wood, Deputy Principal of Mayfield and his team for coming along to participate and complimented them on the quality of their football.
He then thanked Kenny Atchison for giving up his time to come along and referee the game, followed by a thank you for Keith Wright, Football Development Officer for Midlothian Council for his help. Head Principal of Burnbrae Primary then thanked Mr Dougal for all the work he had put in on the day but also the time he put in to organise the event.
Burnbrae, who had won the trophy the previous three years were first up to receive their medals. Then it was the turn of Mayfield to come forward to receive their medals and lift the Shield for the first time in four years.
The principal reason behind the event is to bring pupils from different communities together for a fun day playing football and meeting new people. When asked about his thoughts on the day, Teacher and event organiser, Jamie Dougal replied, "It is an event we really forward to and the boys are always up for it. The action today was absolutely brilliant and I thought it was a close game, obviously Mayfield ran away with it a little at the start but I was really proud of the Burnbrae boys and how they came back into the game showing real determination."
He continued, "It's nice to see kids being active and taking part, playing football with one another, it's is just a really positive event. One of the reasons for the event is so that kids can make friends with other kids from different communities and come together. The spirit between the two teams was absolutely brilliant and this was emphasised when the Mayfield captain came over to our keeper praising him on his great saves which is great to see amongst young lads."
Lewis F, Mark and Lewis M from Burnbrae Primary all expressed how much they enjoyed the day and how they had been looking forward to playing in the event.
Mayfield Primary School's Deputy Principal, Mr Wood when asked about his views on the day he said, "It's a great event that has now been going for many years now and the boys are always asking me, when's the shield?, whens the shield?. They all know it's about this time so they have been harassing me about for the last few weeks."
Mr Woods carried on, "It has been a great occasion today and with us not having a school football league, although we do attend SFA festivals this is something we enjoy and we have kept it going over the years between certain schools. People really keen on football in these schools get together, holding something like this which is a bit different. So overall its great from my point of view."
Mayfield's team captain, Josh was full of praise for his team stating, "I thought it was a great all round performance today from all the lads, a great turn out and we played some incredible football." On the event itself he added, "It is something we always look forward to and it is the highlight of the football season."