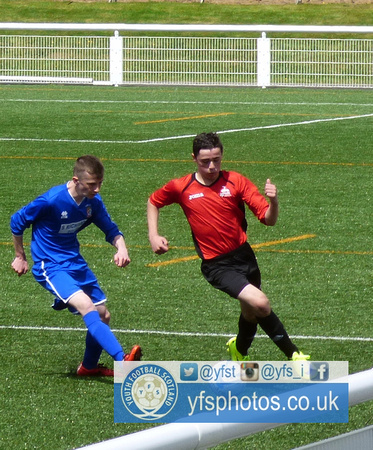 Cup finals are often tense affairs, and this one was no different.
There was no little endeavour, or even quality on show, but both teams largely cancelled each other out. Defences were on top in the first half, before the game opened up in the second.
All three goals came in a 10-minute spell, with Keiron Swinney scoring the winner for Duns. Warren Hutton had opened the scoring for them with an explosive finish, with an Evan Alexander free kick sandwiched in between.
The magnitude of the match perhaps meant that both teams wanted to concentrate on defence first and foremost. And they did so effectively. It is rare at youth level to see such resolute and organised defending, and both back lines can be proud of how they performed beyond their years.
Only once in the first half did anyone manage to break through either defence, with Hawick's Aiden Burke even managing to round the keeper, but his shot was blocked on the line.
Aside from this, there were only shots from distance to speak of. Most of these came from Hutton, who looked desperate to make something happen. The closest he came was a free kick which smacked the crossbar.