Click here for photo gallery (courtesy of Susie Raeburn)
50 excited primary six pupils, along with their teachers, helpers, parents, local MP and Councillors, from five Fair Trade primary schools merged at New Dundas Park, home of Bonnyrigg Rose FC juniors, on Friday 27th of February to participate in the annual Fairtrade Football Cup. These schools were from the local area of Bonnyrigg, Lasswade and Polton Mill.
The purpose of the event was to promote and raise awareness of Fairtrade in the local area which is part of a bigger celebration known as Fairtrade Fortnight which runs between February 28th - 8th March 2015.
Fairtrade Fortnight is an annual promotional campaign which is organized and funded by the Fairtrade Foundation to increase awareness of Fairtrade products. It makes use of volunteers who support the goals of Fairtrade but who may also be committed to the more general concepts of fair trade, ethical trading, or concerned by development issues.
The concept was pioneered by the Fairtrade Foundation in the United Kingdom, initially held in 1997 in Scotland and directed by Barnaby Miln.
Ian Baxter, Bonnyrigg Councillor explained how this event came about. He said "It's great to have events like this as it spreads awareness to the youngsters about Fairtrade. It all started with myself and Martin Meteyard, a fellow member of the Bonnyrigg and Poltonhall Team Group, and we went round all the primary schools in the area and we explained what Fairtrade was.
"It was amazing how much the kids knew about it and recognised the symbol. They were so enthusiastic about it and we decided to bring the schools together and start a football competition between them. People associate Fairtrade with coffee and chocolate, but now we have Fairtrade school uniform and clothing. Something that has become somewhat of a recent phenomenon is Fairtrade football's which shows there are a lot more products out there now that are Fairtrade."
Teams participating in the event were wearing attire the colour of the country that their team were representing in the tournament as shown in the table below.
| | | |
| --- | --- | --- |
| School | Country | Team Colour |
| Burnbrae PS | Egypt | Black |
| Bonnyrigg PS | Burkina Faso | Red |
| Hawthornden PS | Cameroon | Green |
| St Mary's PS | Tunisia | White |
| Lasswade PS | South Africa | Blue |
The football got underway around 9.40am and each team played one another in 10 minute games. The football on display from the boys and girls representing their school was very enjoyable with lots of action, saves, goals, and most importantly, smiling faces.
Fairtrade products were distributed to the children between games which included Fairtrade bananas and orange juice to remind them, although the football was the main aspect of the morning, that the event was also about trying to promote the important issue of supporting Fairtrade.
Event organiser and Teacher at Burnbrae Primary, Jamie Dougal when asked what it meant to his school and himself participating in this event said "This is the fourth year my particular school have been involved in it. Fairtrade as an ideology is fantastic. Teaching that to the children in terms of fairness and giving them the opportunity to learn about different countries around the world is brilliant.
"Football is fantastic way of promoting Fairtrade but across the whole school we celebrate the Fairtrade Fortnight with each class doing different activities relating to Fairtrade and my particular class are focussing on Egypt at the moment which involves researching products that come to our country from that country and if it is Fairtrade or not.
"Football is a great vehicle and a fantastic way of hooking the children in. We know that a lot of boys and girls love the game of football and as you have seen this morning the smiles on their faces, the communication with one another and just the enjoyment has been great."
Louisa Timmins from Bonnyrigg Primary said "It's really nice to be involved with this event and this is our fourth year. We now have our Fairtrade Award, so it's about maintaining that. We are doing different things in the school to raise awareness like selling Fairtrade snacks and running competitions.
"It's really thinking about it all year round rather than just Fairtrade Fortnight, but it's good to have a concentrated reminder for all the children. I would just like to say it's nice to be invited along and it's really good to see the boys and girls playing football together. We appreciate the hard work put in organising the tournament."
Lauren Gilchrist from Lasswade Primary said: "We have had a lot of external companies coming in and delivering lessons to the children. Fairtrade is extremely important and it's profile needs to be heightened with the pupils and the local community needs to understand the importance of it.
"Coming to events like this makes the message go a little bit further. Schools are actively working towards Fairtrade and making trade a little bit fairer."
St Mary's teacher Fiona Macaulay said "I think it is very important to promote Fairtrade and we hold a coffee morning every year which is organised by the Eco Squad who put up poster and send out invites to parents to come along.
"We encourage the pupils to buy Fairtrade goods and we ask them to bring in the wrappers. We then make a big exhibition to show at the coffee morning. For the children we have hot chocolate which they sell to each other and any money raised goes to Fairtrade."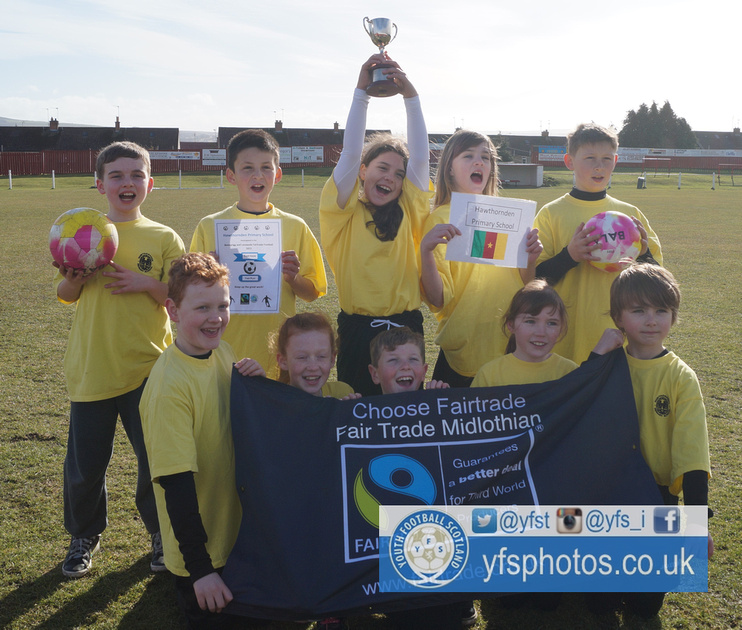 Last but not least Scott Kearsley from Hawthornden Primary said:"Firstly it is a fun day out but it is also part of our Fairtrade Fortnight so in school over the past week we have been looking at products made through Fairtrade.
"Each stage in the school has been split into different areas of the world and we have been doing art and a form of a beetle drive using the Fairtrade logo which helps the profile of Fairtrade at the school."
The football was coming to an end and after all the games had been played the points were tallied up.
David Hamilton, the local MP was on hand to conduct the presentation with all teams being awarded a certificate for participation and then the big one, Hawthornden were asked to come forward to accept the trophy and be crowned the Fairtrade Football Cup winners 2015.
If you wish to know any more about Fairtrade for schools please visit @ http://schools.fairtrade.org.uk/action/fairtrade-fortnight-2015.