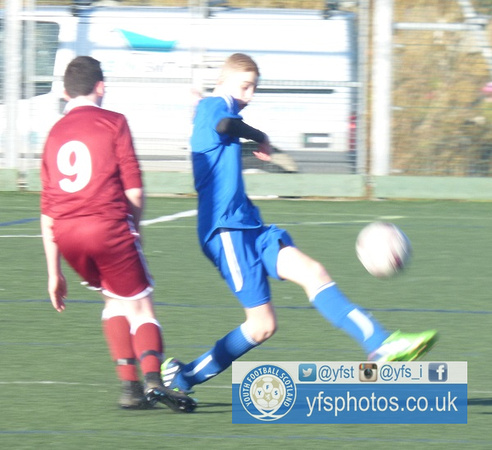 Tynecastle secured their place in the semi finals of the TWS Scottish Youth Cup on Sunday thanks to Liam McCue's second half winner in a closely fought match with Blue Brazil at Beath High School
A casualty of the weather last week, the game was a highly anticipated encounter between two talented outfits.
In keeping with the quality of both teams, it was a tight opening ten minutes in which both teams seemed desperate not to give their opponents an opportunity to strike first.
Ryan Mauchlen had an opportunity to deliver a ball into the box for the hosts early on, but his free kick couldn't find a head and drifted harmlessly past the far post.
Craig Turnbull then had an opportunity for the visitors, but was denied by Jed Muir in the Blue Brazil goal, before Paul Smith was picked out by a cross but he too found Muir in fine form to keep the scores level.
James Watt was next to try his luck for the home side with a free kick, but like the one moments before it came to nothing as both sides continued to test the water.
But with the quality on display it was never going to stay that way for long, and it was Blue Brazil who eventually started to take the game to their Edinburgh rivals.
Some good build up play found Luke Smith in space, and his right footed shot was well saved by Aiden Black to bring the game its first real chance.
The game was now starting to wake up, and Tynecastle were quick to respond with a chance of their own. McCue saw a shot from the edge of the area blocked and cleared from danger.
Mauchlen was then almost played in after a swift counter attacking move, but he dragged his right footed shot just inches wide of the post.
There was a real ebb and flow to the game now, and Daniel Lock was almost through on goal for the visitors, but Muir rushed off his line to collect and keep the scores level.
The best chance of the match so far then fell to Blue Brazils' Jay Watson, as he stretched to reach a long free kick with his head, only to see his effort loop over Black and come cannoning back off the cross bar.
Smith then took aim again for the visitors, and although this time his shot made it past the defenders in front of him, Muir was able to make a comfortable save.
There was just enough time for two more chances for the away side as Sean Macdonnell saw his free kick graze the top of the bar, before Smith took aim for a third time, but his effort flashed just wide of the post as the sides went into half time deadlocked at 0-0.