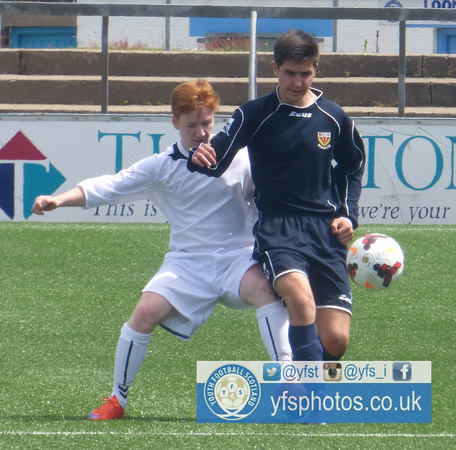 Carnoustie High School have won the Senior Angus Schools FA cup after what can only be described as an absolute thriller of a final against Brechin High School.
Carnoustie were 1-0 up at the half time break after Calum Moodie's wide free kick sailed into the top corner. The cup then looked to be heading the way of Carnoustie when, early in the second half, they doubled their advantage through Jamie Campbell. Brechin High School then launched a phenominal fight back and pulled a goal back through a Sam Wood penalty. Shortly afterwards they were back on level terms when Alfie Downey headed in the equalsier from a corner. There was still time for one last twist, however, as in stoppage time Moodie curled one last free kick straight into the goal to hand the Carnoustie boys victory.
The game was a closely fought encounter with both sides fighting it out for overall supremacy in the sunshine. Each team had a few half chances at goal in the opening stages but it was Carnoustie who made the initial breakthrough in the 27th minute. Brechin conceded a free kick out on the right flank and Moodie stepped up to take the kick. With a number of Carnoustie bodies filling the penalty box looking to get a head on the impending cross Moodie delivered the perfect ball, but not in the way you would expect. The ball was indeed delivered straight into the box but it sailed over everyone and straight into the top right corner of the goal. Intentional or an over hit cross? I'll let you decide on that one.
In the 39th minute Brechin nearly enjoyed some success from a free kick themselves. The ball was delivered long into the box and was met by the head of Brechin captain Downey. The centre half could only head the ball wide of the mark, however.
Both teams continued to pose the odd threat on goal but it remained 1-0 going into the half time break.