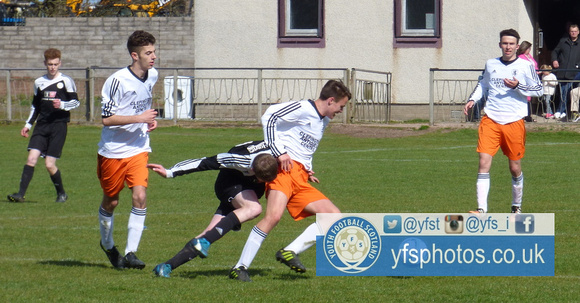 It was a case of Déjà vu for some at Dundee's North End Park as Dundee United Sports Club and Broughty United met in the final of the Peter McAvoy cup. Only four weeks prior the two had met in the Henry Dolan cup final with DUSC coming out on top after a 2-1 victory that day. This time, however, it was Broughty United that triumphed with a 2-0 win to claim the inaugural Peter McAvoy trophy. A first half strike from Darren Forbes, followed by a second half penalty converted by Derryn Kesson, was enough for Broughty to seal the victory in another well-fought and hotly contested affair.
With the teams both hugely familiar with one another it was clear from the offset that the match was going to be close once again. The first chance arose in the fourth minute of the game when Hoskins delivered a superb cross into the box for Charlie Wilson. Wilson's close range effort was superbly saved thanks to some great athleticism from Dundee United goalkeeper, Aaron Smith.
Broughty United started to assume control of the early stages of the game and had another opportunity on the 12th minute. Gavin Craik managed to worm his way into a shooting position and fired a fearsome strike towards goal. His initial shot was well blocked but he then set himself up for a rebound effort. Unfortunately his second attempt flew well over the target and out of the ground.
Three minutes later Broughty took advantage of their strong play and went 1-0 up. Forbes came in from the left hand side and struck a low, powerful strike at goal. The ball flew past Smith and nestled in the back of the net.
After the goal the match leveled out in terms of performance with neither side willing to let the other gain any extra momentum. It stayed like this for the remainder of the half. As both teams went in for the break DUSC were left to try and come up with a plan to overturn Broughty's advantage.