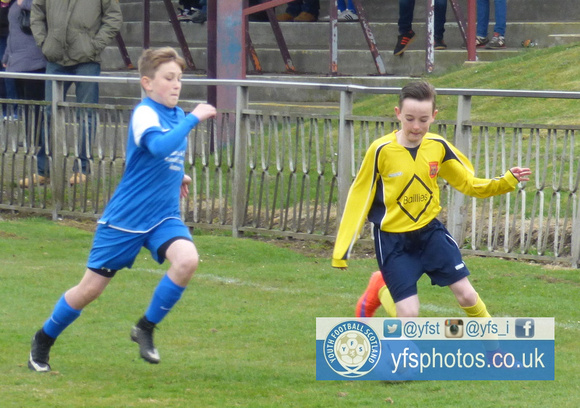 Dundee's North End Park witnessed a hugely exciting, and tense, cup final as Ferry Athletic prevailed against Montrose YFC 1-0. The game's only goal came in the final minute of extra time, courtesy of an exquisite shot from Stewart Hogan. Though the game wasn't packed with goals, it really was a fantastically well-contested affair and made for superb viewing.
Ferry Athletic came straight out of the blocks at the start of the game and created the first clear chance. Luke Queen was able to break free of the Montrose defence early on, rounded the goalkeeper, but was only able to fire his shot over the bar.
Shortly afterwards Queen threatened once again. Ferry's electric forward attempted a looping shot at goal but, like his previous effort, it went over the crossbar.
In the 10th minute Ferry started to build the pressure once again. Their work culminated in a chance for Findlay McLean but his effort flew over the target.
After weathering the Ferry Athletic storm, Montrose started to find their way back into the game. The impressive Mitchell Smith made a fine driving run through the centre of midfield, in the 29th minute, before laying the ball off to Kai Henderson. Montrose's number 14 hit a powerful strike, but it kept on rising and soared over the goal.
A minute later Henderson had another attempt on goal as he fired a long range effort towards goal. The shot, however, was comfortably claimed by Ferry goalkeeper, Thomas Egan.
The final chance of the first half came the way of Ferry Athletic. Shortly before the break they were awarded a free kick just outside the penalty area. Jackson Dobbie stepped up to take the kick and delightfully curled his effort towards the top right hand corner. It seemed destined for the goal but standing in the way of Ferry taking the lead was Montrose's captain, and goalkeeper, Ross Duncan. Montrose's number 1 expertly parried away the ball and out for a corner kick.