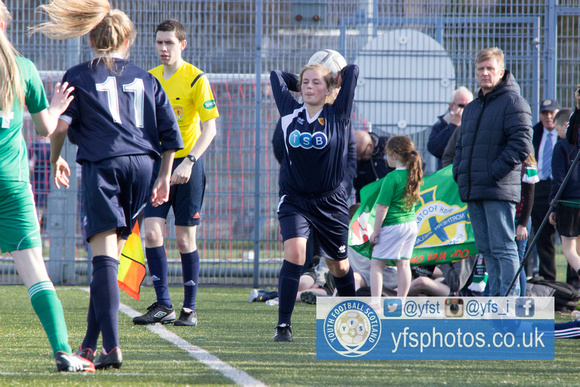 The opening game of the annual Bob Docherty Cup saw hosts Scotland run-out 4-0 winners against Northern Ireland.
It was the perfect start for a Scotland team looking to win back the trophy they lost to England last year and they put the pressure on the visitors right from the whistle.
A mix-up in the Northern Ireland defence allowed Alise Stewart to play through Amy Muir but the Irish defence recovered well to snuff out the danger.
Keeping the pressure on, Kaela MacDonald knocked a long ball over the top for Muir to chase but she was unable to get past Northern Ireland right back Megan Bell.
Northern Ireland eventually got into the game and Abbie Magee's pass set Emily Wilson off and running and she managed to force a corner.
The corner was straight from the training ground as Niamh Ruddy played the ball to Caitlayn Hamilton on the edge of the box but her Paul Scholes-esque volley was just off-target.
Northern Ireland were beginning to settle into the game when, as so often happens, they were hit by a suckerpunch.
A bursting run down the wing by Stewart created space for Scotland and when Irish defender Rachel Rodger's tackle sent the ball loose, it was gratefully picked up by Hannah Robertson who calmly slotted home to give the home side the lead.
The goal gave encouragement to the Scots who almost doubled their lead from a Robertson cross that was punched clear by Lauren Currie moments before it could be headed in by the waiting Monica Anderson.
Anderson came close again with a long range effort that deflected wide for a corner as Scotland continued to search for a second before half-time.
Slick passing in the centre between Anderson and Robertson allowed Robertson to break wide and play in a tantalising cross that Stewart was only millimetres away from connecting with.
Northern Ireland weren't out if it yet though and had the last chance of the half when a neat interchange of passes between Aine Smyth and Emily Wilson allowed Wilson to release Louise Crawford but a marginal offside call prevented her from finding the equaliser.
Scotland went in 1-0 up at halftime thanks to Robertson's goal, but had central midfielders Jemma Marriott and Kaela McDonald to thank for a solid display that helped pin back the Irish and stopped them getting out of their own half for much of the opening exchanges.