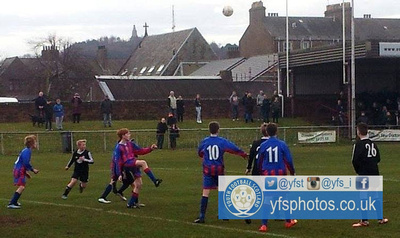 On a bitter and windy Sunday afternoon at North End Park saw Dundee West lift the cup by a spare goal in a well fought evenly matched encounter. Broughty had much of the initial possession in the opening stages and their pressure on West's defence soon paid off when the opening goal of the match came after 13 minutes.
A high free kick into the box, over the defence, fell at the feet of Ewan Faulkner who gently slotted the ball into the net past the keepers right hand side from 6 yards out.
Broughty continued to attack but West's defence were up to the task inside the penalty area clearing away several dangerous opportunities.
West then began to retaliate and a couple of free kicks were unfortunately squandered. One opportunity going frustratingly out of play down the left and the other going a few yards over the bar. They proceeded in attempting to make an impact in the final third but Broughty were handing the incoming balls comfortably and also counter attacking.
A soft shout for a penalty from a foul on 20 minutes was waved away by the referee when the Broughty midfielder was taken down in the box after good skill in getting there.
Dundee West had a couple of corner kicks and these lead to penalty box scrambles desperate to score the equaliser with Broughty on the other hand frantically defending their one goal lead.
Both central defenders for West were integral in preventing a potential killer second goal. They man marked and played the line of defence superbly all afternoon.
Throughout the first half both teams defended extremely well, but with Broughty the better side in attacking.
A few foul throw ins and free kicks slowed the pace of the game down into the last 10 minutes.