The semi final stage is an exciting time for any team involved at this stage of a cup competition. For the upcoming weekends the TWS Scottish Youth Cup treats us to a whapping 12 semi final match ups across all age groups with two having already taken place. Here we preview, and review, each tie.
You can also keep up to date with all the action LIVE using the new YFS 'Team App'. Find out more by
clicking here
.
Listen to YFSRadio's lastest podcast's, which preview all the semi-finals below.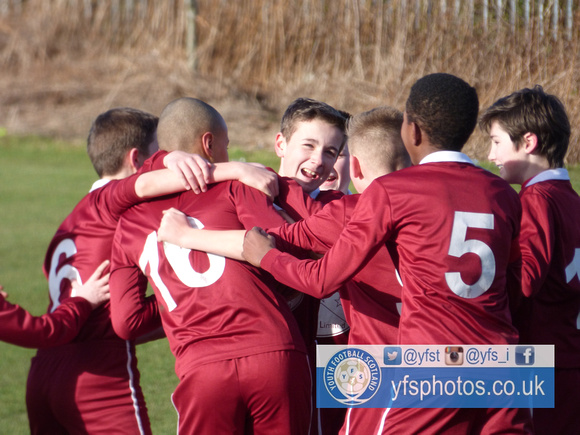 Our second semi final at under 13's level is between Jerviston FC and Tyncastle FC, which takes place at New Douglas Park in Hamilton on the 22nd March. Jerviston have been defensively sound in the cup recently after keeping clean sheets in the last two rounds, winning 4-0 in round five and 2-0 in the quarters. After narrowly coming through their round four match against Cumbernauld Colts, via a penalty shootout, this defensive solidity is a remarkable effort and has aided them to reach the semi-final stage in impressive style.
Tynecastle's cup run has been full of goals after scoring 12 in the previous three
rounds. With a 5-0 win in round four, a 4-1 win in round five and a solid 3-0 victory in the quarter-finals the Tynecastle attack will be brimming with confidence. Here we have a classic tie where great defending meets strong attacking. Which will come out on top?
The first semi final between Banks O'Dee Albion and Mill United took place last Sunday, 15
th
March. The game witnessed an incredible score line with Banks O' Dee running out 12-0 victors. At this stage of the competition this is a remarkable feat and will no doubt send their confidence sky high ahead of the final. To read Chris Cromar's match report of the amazing game
click here
or listen to their post-match interview below.
The first semi final for the under 14's age group is between Tynecastle FC and Rangers SABC scheduled for the 22
nd
March. In a similar vein to Tynecastle under 13's, the under 14's side have scored plenty of goals on route to the semi-finals. They ran out impressive winners against Clydebank Boys FC Black in round four before beating Lewis United Youth in round five with an impressive score line of 6-1. Tynecastle's quarter final against Blue Brazil, however, was a far closer affair with Liam McCue's second half strike the only difference between two strong sides.
This display of resilience could well aid them against Rangers SABC who, themselves, have experienced a full variety of scenarios in the cup. In round four Rangers emerged as winners on penalties after a 2-2 draw against Edina Hibs CFC before beating Hutchison Vale Colts 4-1 in round 5. Rangers also experienced a hard fought quarter final against Crosshouse Boys but managed to emerge victorious with score line of 2-1. With both teams showing that they have the attacking skill, tenacity and resilience, this tie promises to be a tough one to call.
The second semi final for the under 14's is between Newcraighall Leith Vics and Broomhill Sports Club, which will take place on the 29
th
March. Newcraighall have displayed their sheer persistence to succeed in the last two rounds winning 1-0 in both (listen to their 1/4 final post-match interview below). In round four they produced a great attacking performance against St Mirren YFC by progressing as 5-1 winners. A side that can score goals and displays a great willingness to win is one to watch out for.
Their opponents, Broomhill, will come into the semi final with a huge amount of confidence after a solid 5-0 win against Barrhead YFC in the quarters. They displayed a similarly positive attacking display in round four with a 3-0 win against Bonnyton Thistle FC. Round five required them to dig a little deeper into their reserves as they battled to overcome Hutchison Vale. They duly managed to advance as 2-1 victors. Once again we will be treated to a tie where both teams have what it takes to advance. We will see next weekend which of them applies themselves better on the day.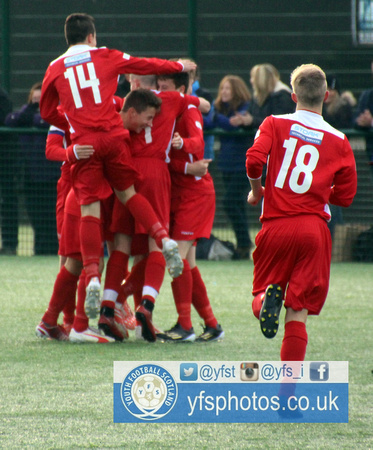 Crosshouse Boys Club and Banks O'Dee Albion will serve up one of the semi final tie's at the under 15's level on the 29th March. Crosshouse have done incredibly well in the past three rounds by scoring 10 goals in the last three rounds and conceding only 1 in that time. That one anomaly in their recent cup defensive record came in round five against Bathgate Vale Pumas who they overcame 2-1, displaying that when the going gets tough they are perfectly capable to hold out for the victory.
For Banks O' Dee Albion, another club that has managed to have more than one semi finalist across the age groups, resilience could well become their middle name. They've won their last three rounds in the cup by winning margins of one. 2-1 victories in both round four and five, coupled with a 1-0 win in the quarter final, tells you that there is something in this side's makeup that is turning these tight games in their favour. This characteristic is one valuable commodity and will serve them well in the semi. We'll soon see if they manage to do it again or if Crosshouse will have the final say.
Semi final number two for the under 15s takes place this Sunday, 22nd March, and involves Hamilton Accies and Renfrew Victoria YFC. This tie should see goals, and plenty of them. In the last three rounds Hamilton have scored 12 goals while Renfrew Victoria have scored 10. In that time Hamilton Accies have kept an impressive three clean sheets, not too bad a trait to accompany the goal scoring. Renfrew Victoria have conceded five goals in the last three rounds, including 3 in a goal filled 5-3 win against Blue Brazil Boys club in round five. Renfrew will hope to have a similar sort of affect on Hamilton. This semi final is sure to entertain those who attend.
Both semi final ties in the under 16's age group take place on 22
nd
March with 1pm kick offs. The first sees Hillwood Boys Club take on Spartans Reds, two sides who required penalty shootout wins in the quarters to progress. Hillwood were able to knock out Bo'ness United Boys Club after a hotly contested affair that finished 1-1. Hillwood then triumphed 8-7 in the shootout.
For Spartans Reds they progressed 3-2 on penalties at the expense of Arthulie Juniors in a game that finished 0-0. Both teams also have remarkably similar records in their cup run with both recording wins by a six goal margin in round, and both winning their round five games by a margin of one. Penalty shootout again anyone?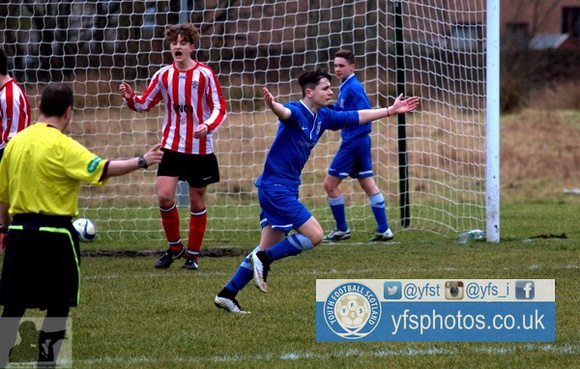 Semi final number two sees Hutchison Vale compete against Knightswood Boys Club for a place in the final. Hutchison needed extra time in the quarters to see off Glenboig United 3-2 and needed to reach deep within their reserves to get past Dryburgh Athletic in round five. On that occasion back in December it was a quality Cameron Stewart free kick that ended up spurring Hutchison Vale on to victory.
It may take something special like that to decide this tie, as Knightswood are no strangers to digging deep to get a result. They needed extra time, in round five, to see off Rossvale FC Inter in what was a thrilling encounter that ended 4-3. In the quarters they emerged victorious 2-1 against St Convals, to show that they are able to dig in when they need to. This will be another tie where hardiness and spirit will come to play.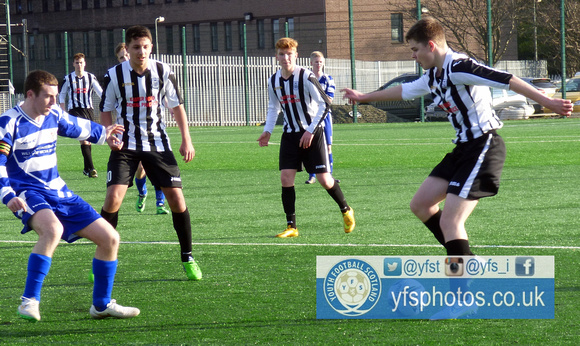 Rossvale FC Thistle and Leith Athletic FC will play out semi final number one, for the under 17's, on the 29
th
March. The first thing that springs to mind with these two sides is goals. Neither team has failed to score less than four goals since round three and, as such, they've both won their ties by decent margins. Rossvale managed to see off Cumbernauld Colts 4-1 in the quarter final whereas Leith secured a 5-2 victory against KSC Town at the same stage. Leith's result followed a hugely impressive 6-0 win against Cove boys club in round five. Without a doubt this tie will be one where attackers shine.
Lewis United and Syngenta Juveniles meet in the other under 17's semi final, again on the 29th. Lewis United had an impressive 5-1 win in round four followed by a 3-1 victory in round five. The quarter final, against Harmony Row YC Red, was a thrilling battle to witness with the game finishing 3-3. Lewis United managed to hold their nerve to go through after winning the penalty shootout 5-3.
Despite this Syngenta Juveniles can stake a claim to be the competitions penalty kings. Their fourth round match up against Erskine Youth Football Club was also an exhilarating encounter as the match ended 3-3. Syngenta managed to progress thanks to a 4-3 win on penalties to reach the fifth round where, once again, a shootout was needed to decide a winner. This time the obstacle was Currie Star FC, where they were able to triumph 5-4 on penalties after a 0-0 draw. Clearly these players do not mind putting their coaches and family through some nervous times. Syngenta learnt for their quarter final that it was probably less nerve racking to settle a tie in normal time, and that's exactly what they did in the quarter final against Glenboig United FC, where they emerged as 1-0 winners. Watch this space for more penalty drama.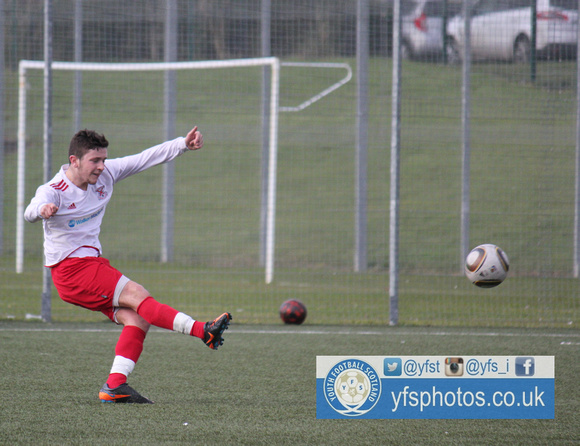 The only semi final that is yet to be played at under 19's level is between East End United BC and Clydebank FC. The game is scheduled to take place on 29th March with both teams having shown in their cup run that they have what it takes. East End United's round four match consisted of a dominant 6-1 display and they followed that up in round five with a similarly strong 5-2 victory. In the quarter final it was a hotly contested and electrifying game that finished three a piece and could only be decided by a shootout.
East End United delivered when it mattered as they knocked out Gartcairn Football Acadamy 4-1 on penalties. Clydebank FC have shown in their run to semi's that they can provide goals but also tenacity when the going gets tough. With two 2-1 victories in rounds three and five in amongst a strong 4-1 win in round four and a hugely impressive 3-0 win in the quarters this tie will be a hard one to decide. Both teams are capable of digging deep to claim victory and both sets of players will have to use this trait to the best of their ability in order to progress.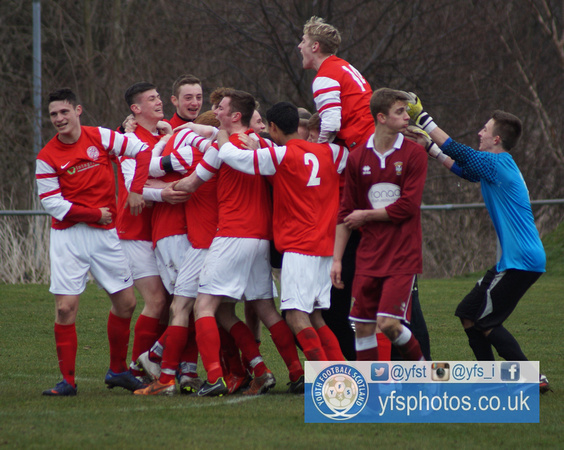 Semi final number two for the under 19's took place on the 15
th
March between Tynecastle FC, the club's third semi final representative, and Broxburn Athletic Colts. Broxburn were able to survive a late Tynecastle onslaught to win the match 2-1 and progress to the Scottish Cup final. Scott Lochrie and Leon Gopal scored the decisive goals in the first half of the semi final and, after managing to hold on for victory, they will fancy their chances against either East End United or Clydebank in the final. To read Vince Raeburn's report on the tense game
click here
.
The first semi final for the under 21s will take place on 29th March between Harmony Row YC and Antonine Football Club. Harmony Row faced a tough quarter final against St Mirren YFC with a replay needing to be scheduled after the initial game finished 1-1. Harmony, however, did well to rally themselves again for the second act and triumphed 3-1 to send their confidence sky high ahead of the semi.
Antonine's performance in their quarter final was hugely credible as they knocked out Bailleston Juniors after a 4-1 win. The attacking performance that they were able to serve up is something that will land them in good stead for the semi final. With both teams performing well it's sure to be a game that will provide much entertainment.
The other semi is between West Park United and St Peters Juveniles Giffnock North, which will not take place until the 12th April. West Park required a replay in their dispatching of Wishaw Wycombe Wanderers after the first game ended goalless. The replay could not have been more different, with the final score ending in a 4-3 West Park win.
St Peters also required a replay in order to knock out their opponents, Rossvale FC. With the initial game ending 2-2 St Peters regrouped expertly to win 1-0 in the replay, a great defensive display. With both teams having to fight their way to the semi finals do not expect either to give up any ground in the match. This will be a very hotly contested affair and a perfect conclusion to the upcoming Scottish Cup semi final matches.