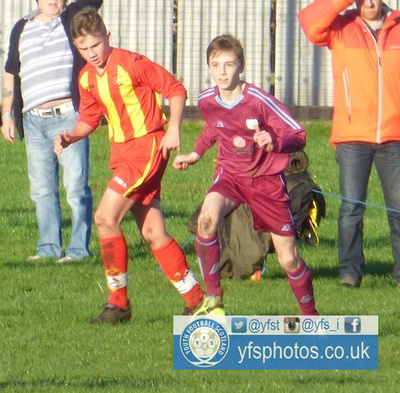 Barrhead YFC came out 2-0 winners in their 5th Round Scottish Cup tie against Arbroath Lads. Connor Bolger and Nathan McSkeane both scored in the final 15 minutes of the game to give their side victory in what had been a well-fought and evenly matched game.
The first five minutes of the match was a clear indication of how the cup-tie pan out. Both teams were up for it and were battling hard in the middle of the park for possession of the ball. The first chance came the way of Barrhead when Bolger sent in a fine throughball for his teammates to run onto. Arbroath's goalkeeper, Jackson Marr, beat the oncoming Barrhead players to the ball and claimed it well.
Shortly afterwards, in the eighth minute and Barrhead came close again. A corner kick was sent towards the back post and the oncoming McSkeane just missed making any contact on the ball.
On the 12th minute and it was Arbroath's turn to pose a threat at goal. A through ball was sent over the Barrhead defence for Max Duff to chase down. Unfortunately for him the Barrhead 'keeper, Calum Hepburn, was quick off his line and booted the ball away just before Duff could reach it.
Just 2 minutes later and Arbroath posed a further threat from a corner kick. After taking a few ricochets the ball fell to the feet of Brandon Low who diverted the ball towards the bottom right hand corner of the net. Bolger was in the right place at the right time to clear the ball on the line to save Barrhead from going behind.
Shortly afterwards in the 15th minute came the biggest moment of the match so far. Arbroath's Ryan Napier chased down a neat ball into the penalty area and was brought down by a Kyle Elrick challenge. The referee deemed the challenge sufficient enough to award a penalty kick to Arbroath. Argyle Cairns stepped up to take the kick and fired hard and low down towards the bottom right hand corner. He was denied by a splendid diving save from Hepburn who parried the ball away to safety.
The match then became a real midfield battle with strong tackles going in and possession changing hands frequently. The next, and last, clear chance of the half fell to Thomas MacRae of Barrhead in the 30th minute. He made a fine run down the left wing of the pitch before unleashing a fierce shot across the face of goal. The ball flew just wide of the post much to the relief of the Arbroath defence.