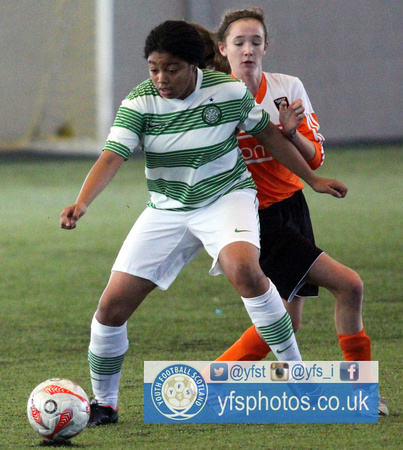 Toryglen was the venue for the U15's SWF Girls Scottish Cup Final, bringing Celtic Girls and Glasgow City together in a penultimate showdown for cup glory. There was, of course, an added incentive in winning this match with the meeting being billed as a local derby - the mere thought of defeat was inconceivable.
But it was Celtic who would emerge victorious in a 2-0 win, with goals coming from Abby Callaghan and captain, Brogan Molloy. Both goals came in the second half, sending Celtic on their way to being crowned Scottish Cup champions for 2014.
The first chance of the match fell City's way inside the 2nd minute when Brogan Hay cut inside from the left and released a low drive at goal but Kiera Gibson saved comfortably.
It was a cagey opening ten minutes with neither team able to command the game, passes were going astray and both sets of teams struggled to grind out chances.
Celtic first made an impact when Kaela McDonald picked up on a loose ball and directed a shot from range but it was straight at City goalkeeper, Erin Clachers.
Nerves appeared to heighten as the first half progressed and both sides had been bereft of clear cut chances after twenty minutes played. City appeared to be dropping deep defensively, perhaps looking to snatch the opener on the counter.
Celtic were in real pursuit of a goal, however, building in confidence and dictating play in the final third. Brogan Molloy hoped to make Celtic's pressure count and tried an ambitious effort from 25 yards but her right footed dig went just wide of the right hand post.
In the 29th minute we saw signs of Glasgow's counter attacking game in full swing. They forced Celtic's backline into a state of disarray, and Hay tried her luck from range again but her attempt dipped slightly late and fell over the bar.
The referee shortly thereafter drew the first half to a close. Mixed emotions for both teams, with chances few and far between. However, both teams were still in it and if their game plans stressed the need to be both cautious and considered, then the players had responded reasonably well.