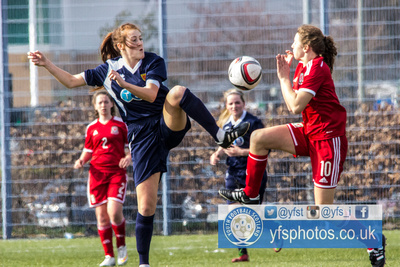 Scotland schoolgirls made it three wins out of three as they comfortably beat a Welsh side struggling for form. Caitlyn Ross put the Scots in front midway through the first half before two goals in quick succession from Grace Molloy in the second half ensured a Scotland victory.
Scotland had not conceded a goal in their two victories in the Bob Docherty tourament going into this game whilst Wales had lost twice scoring just once but it was the Welsh who started the game with real vigour and purpose - an inswinging corner kick from captain Chelsea Deacon nearly finding its way in.
The Welsh pressure intensified as they won another corner four minutes in, this time Deacon's cross finding Ella Powell who guided her header narrowly wide.
Scotland responded to the early warning signs well - Monica Anderson galloped down the left hand side beating several Welsh defenders but couldn't deliver that final ball.
As the sun began to dip behind the clouds so the Scottish girls began to stamp their authority on this match and dominate possession, Amy Muir fired just over from distance before a corner from Elena Brown found Nicole Cameron who agonisingly put her header inches over the bar.
12 rminutes into the game Scotland were in complete control and took full advantage - a tantalizing through ball was played for Ross who kept her composure to stroke the ball past Cardiff City goalkeeper Emily Poole to put the Scots 1-0 infront.
Brown was beginning to create havoc in the Welsh half striding past challenges and her long ball to Ross had the away sides defence in a mode of panic - The Scots unlucky not to add a second.
On the 18 minute mark Wales Ellie Burrows was carried off after a poor challenge left her unable to continue. Her replacement Chloe Griffiths brought on to try and inject some pace into the team in red.
Both teams began to stall in an attacking sense in the remaining minutes of the first half with a real midfield battle beginning to take place and the teams went in at half-time with it all till to play for at 1-0.